Diane Cunningham, M.Ed. is the President and Founder of the National Association of Christian Women Entrepreneurs®, a global association for women to connect, create, and collaborate. NACWE offers training, conferences, networking, and business strategies. NACWE was launched in May 2010 and has been building andexpanding since that time with members throughout the United States and Canada. She created NACWE in May of 2010 as a global association for women to connect, create, and collaborate through monthly online training, conferences, networking, and business strategies. This community and sisterhood is the premier place to learn marketing and mindset in a faith foundation, and it has members throughout the United States, Canada, and beyond.
Biography
Virtual Assistant & Administrative Consultant
As a Virtual Assistant and Administrative Consultant I pro­vide my ideal client and her busi­ness with lov­ing atten­tion to detail and care­ful han­dling of the admin­is­trative tasks at hand.
I use my talents, gifts, and skills to handle the administrative work that takes her away from using her talents, gifts, and skills to the best of her ability.
I believe our life and work experiences, values, education, and relationships shape who we are. Just like beach glass, after the toss and tumble of life, we aren't left in the tide quite how we entered the water and no two of us are alike. My unique past shaped and polished who I am and made me a perfect fit for my ideal clients.
• Learning is vital. I keep a list. I'm checking off both hard and soft skills. I'm investing in myself to bring more joy into my own life, and more of my life into this world around me. I cannot ever know it all, but I love the satisfaction and growth that comes with bettering myself a little every month.
• I am a relationship girl. My passion is forging relationships with my clients. Equal partnerships where we work together on the tasks, milestones, and goals at hand. Loyalty. Trust begets synergy. Synergy begets fruition. Big things come from great relationships.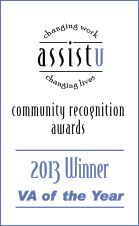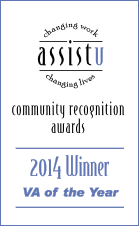 • I boot both ways.  I am both PC and Mac or (depending on who you are) Mac and PC.
I use Office 365, so I have access to my core software on both devices and can work with clients in either operating system. I love knowing my tech is dependable.
• I worked 'out there' for 20 years before starting my practice. I bring an old soul and a seasoned approach to planning and executing. Hospitality is big to me: experiences are paramount.  Products, services, and events we plan together are memorable and rewarding for those they touch.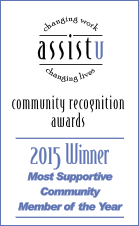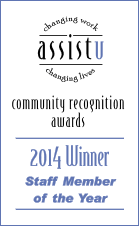 • Growing and giving back are important to me. I'm an AssistU CPVA(currently one of seven) and have also been honored with several AssistU awards:
I also lead two internships each year with AssistU graduates. I learn something new each time I come alongside a newbie and I love seeing the light bulbs go on.
• Our virtual world amazes me.  There are so many ways to share who we are with the people who need us. Helping my client's conquer their content allows them to reach more people across more media, changing lives all over the world. Working on my own, I can only really influence and nurture a few lives. But by supporting my clients, we can exponentially influence, improve, and nurture many lives.
• Planning and processes are huge for me and my clients. Big dreams are broken down into attainable milestones.  Processes and systems are created to help with work flow. Interdependence (not dependence) is always a goal. Having some structure and a plan in place is safe. So much so that…
• I host an annual Faith-Filled Annual Planning Experience. This experience incorporates a Faith-Filled Annual Planning Kit, a Facebook Group, and a Faith-Filled Annual Planning Virtual Planning Day.
• I embrace my own uniqueness. I believe that admin­is­tra­tive sup­port is as indi­vid­ual as the per­son who seeks it and each part­ner­ship with a client is a col­lab­o­ra­tive reflec­tion of that individuality. We each come together with our own gifts, skills, talents, and experiences.  The result is serendipitous.